Camping in the Daintree Rainforest is just good for you!
Daintree Rainforest Village is Australia's most beautiful  camp ground.
It's nothing like you've ever seen, it's just a thing of beauty. ..plus you can …
Reconnect with your  loved ones ….Relax in the peacefulness ….. Fill your lungs with the cleanest fresh air…. and rest and restore in the embrace of nature.
What is the Daintree weather like in winter?
This winter season is shaping up to be spectacular green, warm and sunny…a comfortable 24 degrees in the day and sometimes down to 17 or 18 degrees at night. Just enough to put a light blanket on.
The forest is luscious, from the wet season rains and the creeks are like liquid crystals. The wildlife is humming and the birds are…well , you get the picture!
What is the Daintree weather like in summer?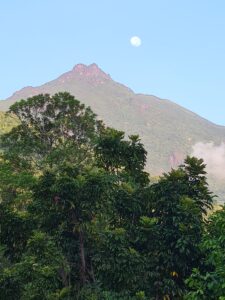 Summer in the Daintree is like heaven on earth! In the early part of the season it is hot and dry, with warm nights to 24 degrees. The nights are clear and starry and just a sheet on the bed is enough.
Day time temps are normally in the low 30's.  As the season progresses it becomes more and more humid, known as "the build up". The humidity builds up and up and it  can reach up to the high 30's before the wet season starts over again in late summer.
Escape to the rainforest now.
Come and stay, you'll need more than a day!
Book your Daintree Rainforest Village Camp Site here.
Go to our direct booking page where you can pay a deposit securely online.
See you soon.
Warm regards from Mark and Janelle and the team at Daintree Rainforest Village.