Daintree Rainforest Village – Getting Here

The best way to get to Daintree Rainforest Village campground and service station is to drive in your own vehicle or campervan. Daintree Rainforest Village is two hours drive north from Cairns City and the International Airport. The Cook Highway is a beautiful scenic drive which winds along close to the edge of the Coral Sea coast line. Follow the Highway all the way to its northernmost end at the country town of Mossman. From Mossman you will continue northward on the Mossman -Daintree Road until you come to the right hand turn onto Cape Tribulation Road and the Daintree River Ferry Crossing.
This is where your Daintree rainforest adventure really begins.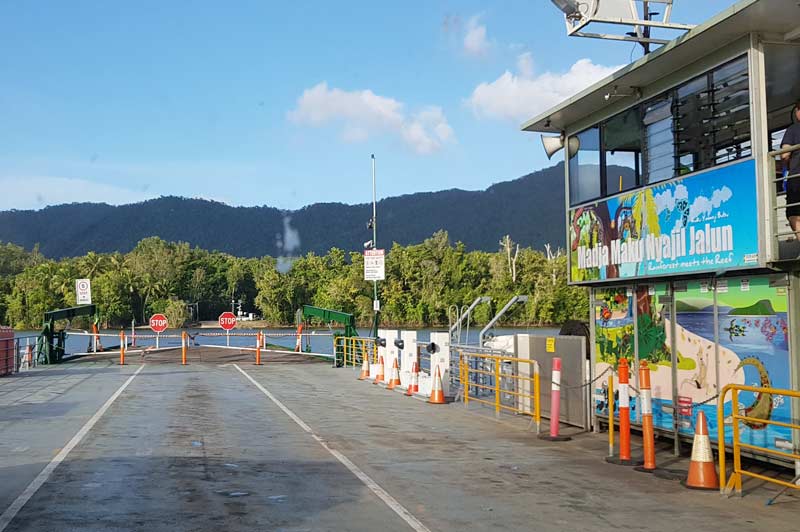 Crossing the Daintree River by Ferry
The vehicle ferry is the only way to cross the Daintree River. When you drive onto the ferry you will often find that you are sharing the ride with all sorts of vehicles. Caravans, tour buses, campervans and motorbikes, 4WDs with off road trailers and delivery trucks who carry all of the supplies to this off grid community on the north side of the river. The ferry operates every day from 6am to midnight.
Visitors to the Daintree Rainforest come in their biggest numbers from July to September because our winter weather is balmy, sunny and mostly dry. Because of its popularity you may have to wait a long while for a place on the ferry, particularly during mid morning to lunch time for those heading north and in the afternoon between 3 and 5 pm going south.
Travellers Tip
To avoid the ferry waiting times plan to head north from Mossman by around 8am. If you stay for a night or two in the forest it's easy to schedule your return journey on the ferry by departing in the morning or waiting until the cool of the early evening to head south.
Daintree River Ferry Costs
The cost for a car or campervan is $28 dollars including your return pass.
A Multi Day pass is available for $56, allowing for 5 return trips.
EFTPOS is available at the ferry between 8am – 4.30pm seven days a week.
At all other times users of the ferry need to pay cash.
Ferry costs for Local Holiday Makers
If you live in Douglas Shire or nearby regions of Mareeba, Tablelands, Cairns, Cassowary Coast and Cook Shire you can use the Daintree River Ferry for free between the 1st of November and the end of February each year.
This is a great opportunity for locals to have inexpensive and relaxed camping experience in the forest during the Christmas school holidays.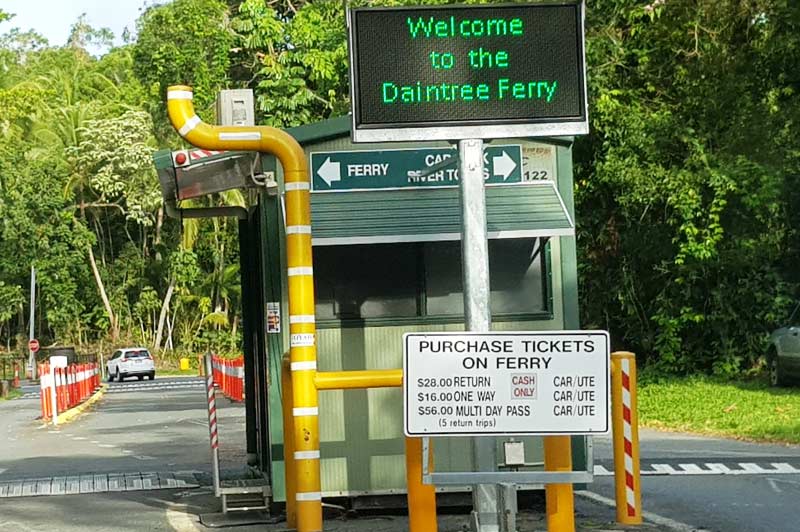 Come and stay, you need more than a Day.
Set up base camp in the heart of the Daintree Rainforest.
BOOK NOW Call one of our friendly staff on 0466 658 399 or