Daintree Rainforest Village Camping

Located in the heart of the World Heritage listed Daintree Rainforest, the Daintree Rainforest Village is the perfect place to park your campervan or caravan. For a truly back to nature experience, set up camp and enjoy the breathtaking views and the friendly relaxed atmosphere of our beautiful campground.
Camping in the jungle does not get any better than this.
Check out our Camping Rates page for our pricing and Daintree camping deals.
It's  time to go camping in the Daintree Rainforest again! It's
GREEN SEASON

…lush and beautiful.
YES!.. We are open and taking your bookings now from whatever part of Australia you come from!
YES!.. KIDS 12 and UNDER STAY FREE.
YES! We are pet friendly.
SUMMER in the rainforest is the best time of year to experience the wet tropics. It's very humid weather with bursts of sunshine and occasional heavy showers to keep the creeks flowing and the rainforest fresh and green. There's mushrooms and caterpillars and butterflies, flowers, ferns and baby cassowaries!
It's a wonderland during the wet season. You really must come and see for yourself. 
When you make your booking, have a look at our
sheltered sites

. They are ideal for the wet season. And keep in mind we have a great laundry and a big dryer, lovely hot showers and a massive, dry camp kitchen too!
Come and stay, you'll need more than a day!
Are you ready to escape to ze jungle? Book your Daintree Rainforest Village Camp Site here.
Just  go to our direct booking page where you can pay securely online.
PLEASE NOTE;  COVID19 safety measures are in place.
We are pre-screening all guests to the camp ground.

You must complete the guest registration form on arrival

Social distancing should be adhered to while you are on the property

We reserve the right to refuse entry if you are displaying recognised symptoms of Corona virus
See you soon.
Warm regards from Mark and Janelle and the team at Daintree Rainforest Village.
 Click on the green button below to book now.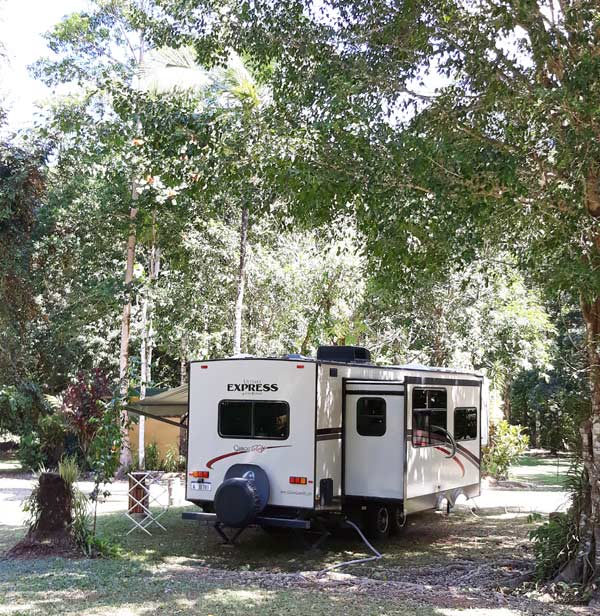 POWERED SITES
Our powered sites accommodate caravans, motorhomes, campervans and large tents up to about 12 metres in length and are easily reversed into with ample room for your fold out awning on the side. Each powered site has water on tap and a grey water disposal sump. They are private and shady and divided by colorful terraced gardens. Each has a backdrop view directly into the forest full of epiphytes and palms, climbing vines and fruiting rainforest trees like the blue Quandong, cauliflorous figs and the crazy giant Jackfruit. Cassowaries will make their entrance into the camp through this part of the forest in search of ripe quandong.
* * Best suited to EVERYONE!


Drive through powered sites are located in the central camp zone and can accommodate larger rigs and long caravans. Please chat with the staff about your requirements.
* * Best suited to longer caravans and large RVs


Elevated powered site (one only) is up the private road on a plateau of open lawns. The views of the rainforest and surrounding mountains are breathtaking from this site and the stargazing at night is astronomical!
* * Best suited to campervans, rooftop campers and tents.
UNPOWERED SITES
You are spoiled for choice with our unpowered campsites. Some campers like to be close to all of the facilities, some like to be just slightly removed and then there are those who want to be as far away from everything as possible. We have just the right site for you.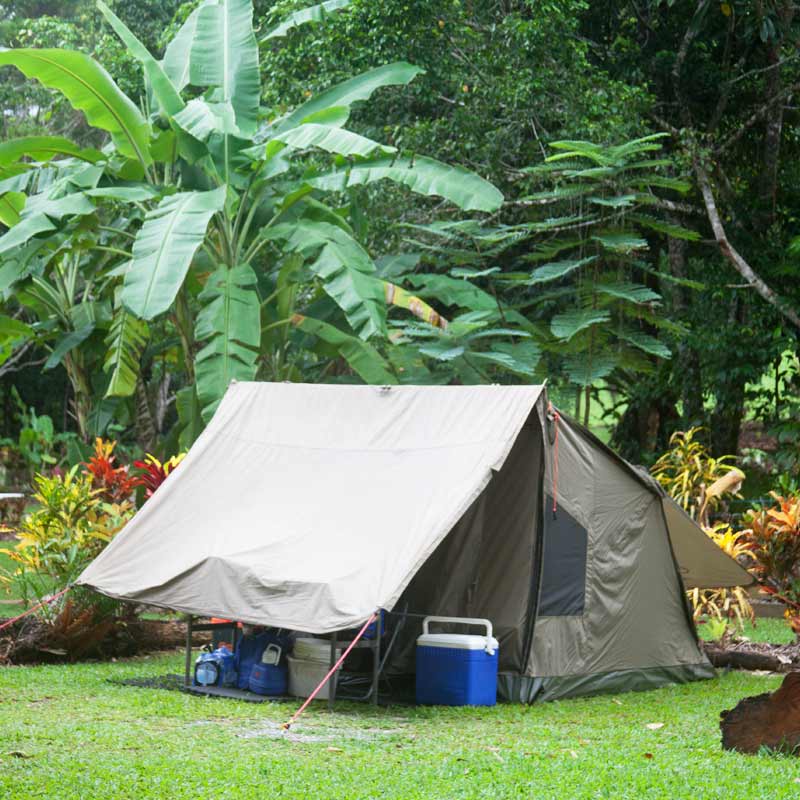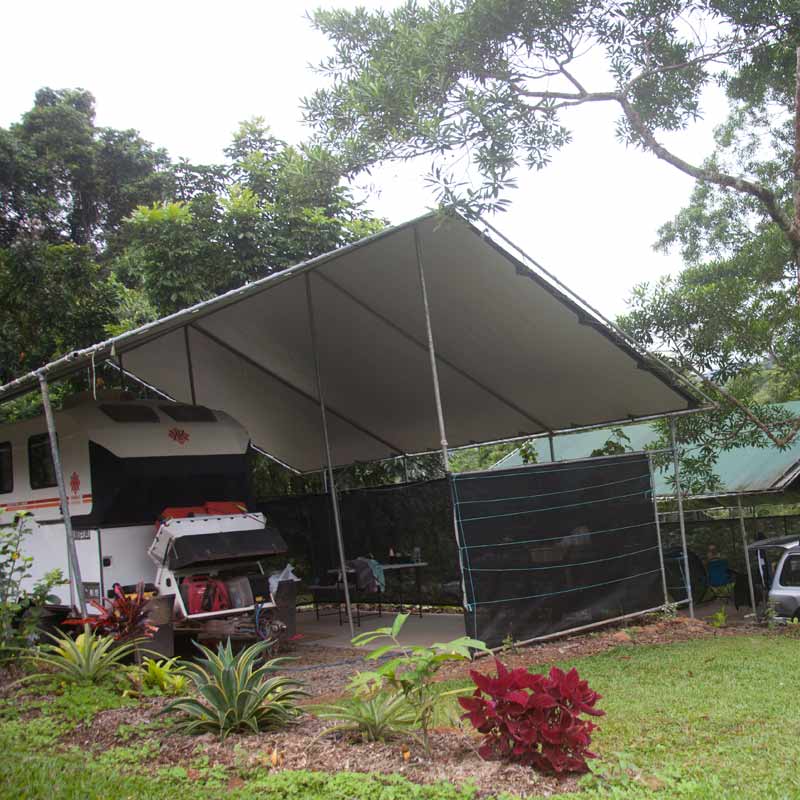 SHELTERED SITES
There is a growing interest among travellers and explorers to experience the rainforest during its peak activity time – the wet season. This is when the forest really comes alive. Daintree Rainforest Village is the only campground in the rainforest to offer sheltered campsites for most types of vehicles and camping setups.
Our sheltered campsites are designed to drive in and park under the waterproof roof. There's a concrete slab and a privacy screen with passionfruit vines surrounding your outdoor area. Water and power is available and there's plenty of room to set up your barbecue, table and chairs undercover.
Kick back and relax to the sights, smells and sounds of a real wet season in the tropical Daintree Rainforest.
**Some of our sheltered sites have a clearance of 3.4m for larger motorhomes and rooftoppers. Campervans, tents and swags are great in the lower sheltered sites too. These campsites are a special treat for adventurous people who love Jurassic lightning storms and the sound of rain! Limited availability, bookings recommended.
PET FRIENDLY
Daintree Rainforest Village is 20 acres of freehold land in the heart of the Daintree National Park. We are the only pet friendly campground.
We have passing parade of protected native wildlife and the occasional feral pig. We insist that your dogs and cats remain on short leads at all times during your stay, for the protection of the wildlife and also for the safety of your pets.
Please don't leave your pet unattended for any length of time. Do not allow pets to enter the bathrooms, laundry or camp kitchen. We have 8 acres of mowed lawns to walk your pets and we hope they will be happy campers here too.
Come and stay, you need more than a Day.
Set up your base camp in the heart of the Daintree Rainforest.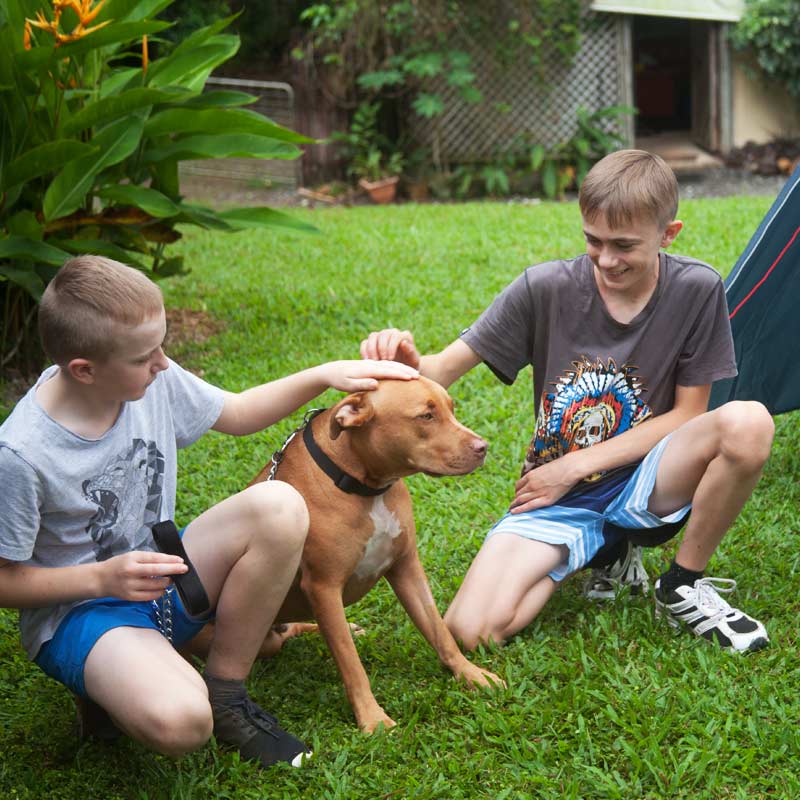 BOOK NOW Call one of our friendly staff on 0466 658 399 or