Daintree Rainforest Village Camping

Known as Australia's most beautiful campground.
Discover the breathtaking views, the rolling green hills, the exotic tropical gardens
and our boutique style facilities.
Bring along your campervan or caravan, rooftopper, motorhome, trailers, tents or swags.
Camping in the rainforest does not get any better.
Find us in the heart of the World Heritage listed Daintree Rainforest…
the perfect place for a truly back to nature experience. 
We have powered sites with full hookup and unpowered sites in sun or shade.
We also have the ONLY 
sheltered camp sites

  in Australia!
Sheltered sites are designed for wet season camping, but they are also great on the sunny days or even to keep your gear dry when there is a heavy dew at night.
Reviews about us
What do people think about camping at Daintree Rainforest Village?
See beautiful images of the park on

Instagram, here

. 
See all things Daintree Rainforests Village on our facebook page.
Come and stay, you'll need more than a day!
Camping in a tropical rainforest
See you soon.
Warm regards from Mark and Janelle and the team at Daintree Rainforest Village.
Click on the green button below to book now.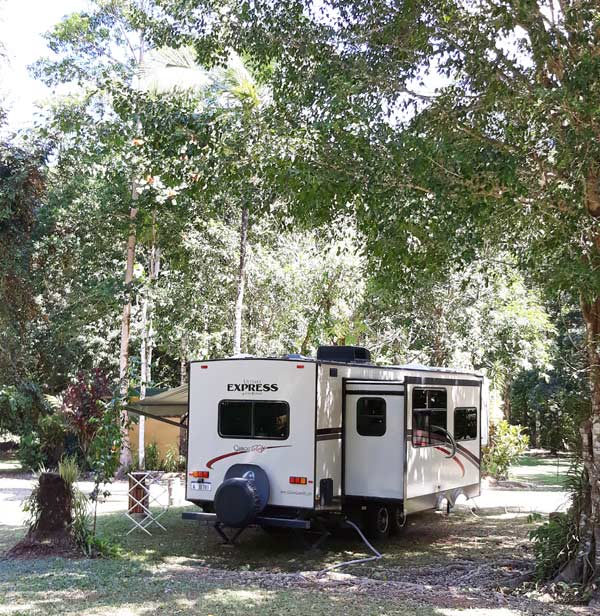 POWERED SITES
Our powered sites accommodate caravans, motorhomes, campervans and large tents up to about 12 metres in length and are easily reversed into with ample room for your fold out awning on the side. Each powered site has water on tap and a grey water disposal sump. They are private and shady and divided by colorful terraced gardens. Each has a backdrop view directly into the forest full of epiphytes and palms, climbing vines and fruiting rainforest trees like the blue Quandong, cauliflorous figs and the crazy giant Jackfruit. Cassowaries will make their entrance into the camp through this part of the forest in search of ripe quandong.
* * Best suited to EVERYONE!
Drive through powered sites are located in the central camp zone and can accommodate larger rigs and long caravans. Please chat with the staff about your requirements.
* * Best suited to longer caravans and large RVs
Elevated powered site (one only) is up the private road on a plateau of open lawns, no trees. The views of the rainforest and surrounding mountains are breathtaking from this site and the stargazing at night is astronomical!
* * Best suited to campervans, rooftop campers and tents…but caravans can fit there too.
UNPOWERED SITES
You are spoiled for choice with our unpowered campsites. Some campers like to be close to all of the facilities, some like to be just slightly removed and then there are those who want to be as far away from everything as possible. We have just the right site for you.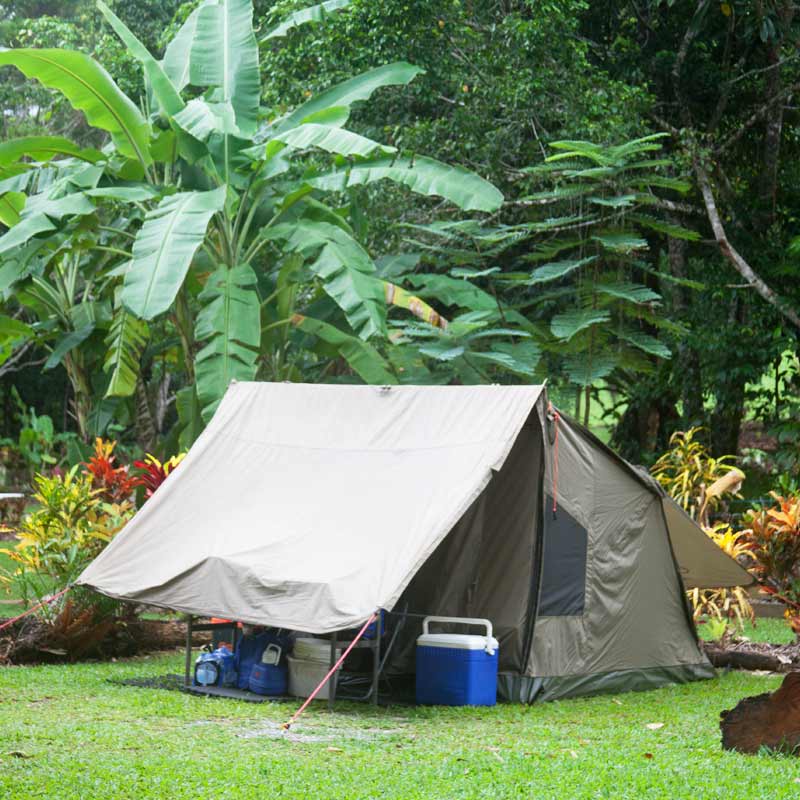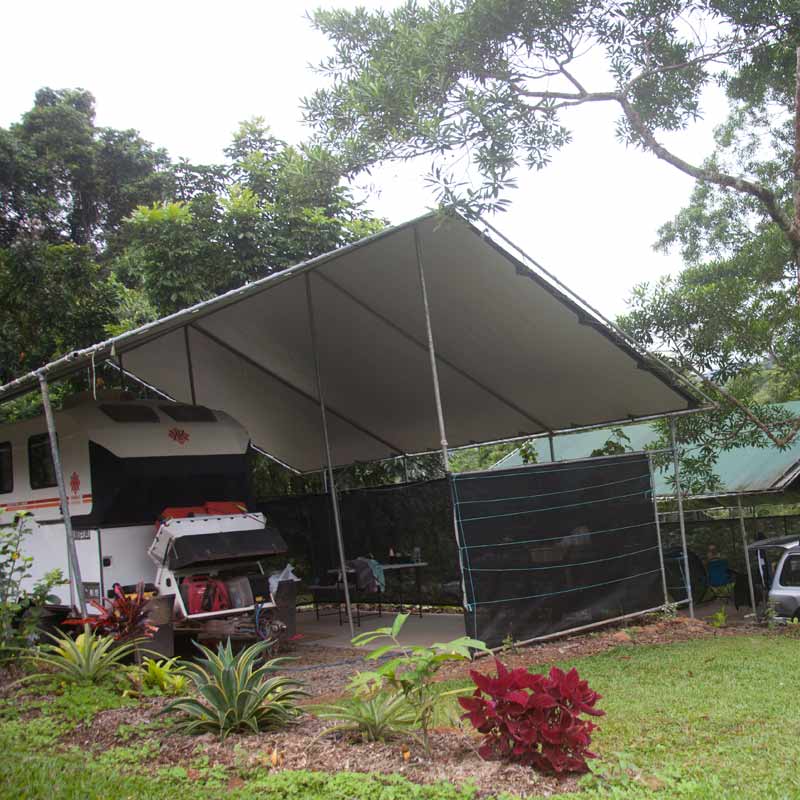 SHELTERED SITES
There is a growing interest among travellers and explorers to experience the rainforest during its peak activity time – the wet season. This is when the forest really comes alive. Daintree Rainforest Village is the only campground in the rainforest to offer sheltered campsites for most types of vehicles and camping setups.
Our sheltered campsites are designed to drive in and park under the waterproof roof. There's a concrete slab and a privacy screen with passionfruit vines surrounding your outdoor area. Water and power is available and there's plenty of room to set up your barbecue, table and chairs undercover.
Kick back and relax to the sights, smells and sounds of a real wet season in the tropical Daintree Rainforest.
**Some of our sheltered sites have a clearance of 3.4m for larger motorhomes and rooftoppers. Campervans, tents and swags are great in the lower sheltered sites too. One of our sheltered sites is suitable for a large caravan, drive through with power and water.***
These campsites are a special treat for adventurous people who love Jurassic lightning storms and the sound of rain! They are available all year round and offer great shade in our sunny winters too.
Limited availability, bookings recommended.
Come and stay, you need more than a Day.
Set up your base camp in the heart of the Daintree Rainforest.
BOOK NOW Call one of our friendly staff on 0466 658 399 or