Daintree Rainforest Village – Camping Rates

Daintree Rainforest Village rates are based on one vehicle per site and the number of guests for the specified duration. All rates are shown in Australian Dollars AUD and include GST. To secure your booking we require payment of your first night's stay as a non refundable deposit. The outstanding balance for continuing stay must be paid upon arrival. We accept cash, Eftpos, Visa and MasterCard.
It's  time to go camping in the Daintree Rainforest again!
YES!.. We are open and taking bookings now.
YES!.. KIDS 12 and UNDER STAY FREE.
YES! We are pet friendly.
Come and stay, you'll need more than a day!
Are you ready to escape to ze jungle? Book your Daintree Rainforest Village Camp Site here.
Just  go to our direct booking page where you can pay securely online.
PLEASE NOTE;  COVID19 safety measures are still in place.
We are pre-screening all guests to the camp ground.

You must complete the guest registration form on arrival

Social distancing should be adhered to while you are on the property

We reserve the right to refuse entry if you are displaying  symptoms of CVD19
                                                 We hope to see you soon!
   Warm regards from Mark and Janelle and the team at Daintree Rainforest Village.
                                       Click on the green button below to book now.
CAMPING RATES
PLEASE NOTE; PRICES MAY CHANGE WITHOUT NOTICE. SINGLE PERSON DISCOUNTS DO NOT APPLY DURING PEAK SEASON (July to November)
CAMPING RATES as at 1st June 2021 – Off season
Powered Site
1 person $30 per night
2 people $40 per night
Each Extra Person 13 and over PLUS $10
Unpowered Sites
1 person $20 per night
2 people $30 per night
Each Extra Person PLUS $10
Sheltered Sites
$50 per night for 2 people plus $10 for each extra person over 12 years. Power and water is included.
CHILDREN 12 AND UNDER STAY FREE
Our $2 SURCHARGE FOR DOGS includes a booklet of the best places in the forest to walk with your dog.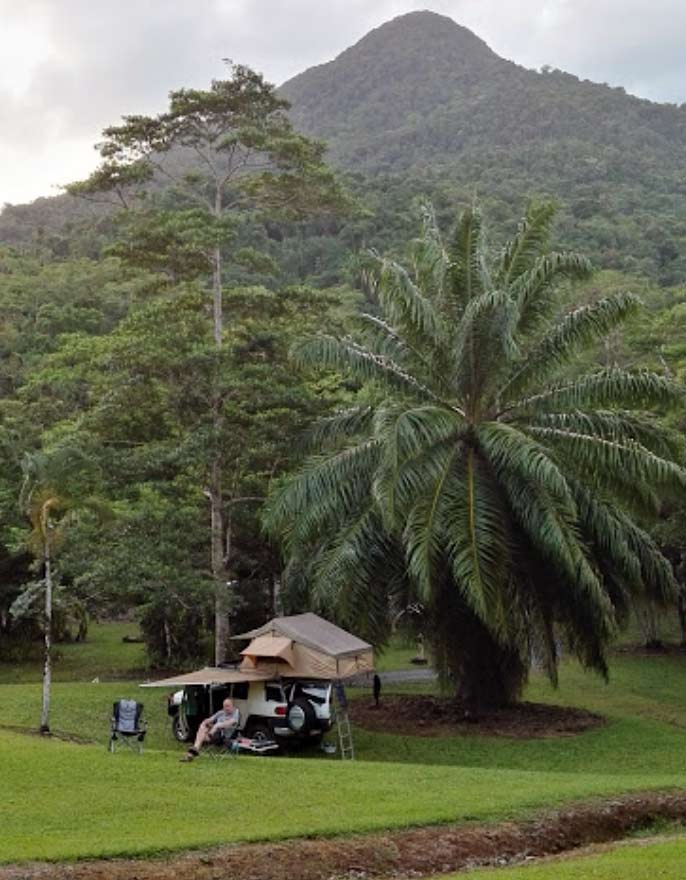 DAINTREE RAINFOREST CAMPING DEALS
Get One Night Free!
Yes, if you stay with us for seven nights you only pay for six!
Come and stay, you need more than a Day.
Set up base camp with us, in the heart of the Daintree Rainforest.
BOOK NOW Call one of our friendly staff on 0466 658 399 or