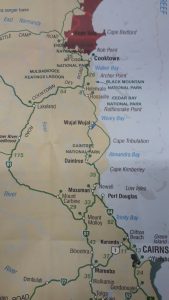 Off Road enthusiasts will be excited to know that the CREB TRACK reopens as of today, Tuesday 13th August 2019. The CREB takes you on one of Australia's most challenging 4WD experiences.
Try this exciting circuit road going via CREB TRACK northward out of Daintree Village. Its a challenging track for thrill seekers which takes you through the mid western area of the Daintree National Park on to the awesome Roaring Meg Falls.
From there head north east toward the aboriginal settlement of WUJAL WUJAL (waterfall waterfall) where you can experience another beautiful waterfall on the crocodile inhabited Bloomfield River.
Your 4WD circuit then swings back southward along the famous Bloomfield Track. A couple of good steep inclines of 34 degrees will keep your interest up and then a nice rinse down as you pass through the lower reaches of Emmagen creek. Take a walk upstream here to swing off a tree into the cold clear mountain stream and deep waterholes.
Southbound again, you reach sealed road  at Cape Tribulation. Continue 15 km southward to the best and greenest camp ground in far north Queensland at Daintree Rainforest Village. Take at least one night here to enjoy your last camp fire before crossing the mighty Daintree River by Ferry and back to the real world.
Go here to find more info about road conditions and aboriginal consent to access culturally significant areas along the CREB and Bloomfield Tracks.
Thanks to Gagandeep Singh for the beautiful Rainforest Image