To self drive from Cairns to the Daintree Rainforest  just follow these signs on The Great Barrier Reef Tourist Drive.
Road signs  from Cairns to the Daintree Rainforest.
This beautiful drive has been voted the worlds best scenic tourist drive. Wow, it beat Route 66 and the Great Ocean Road.
Starting out from Cairns, drive north on the Captain Cook Highway. At times the road weaves close to the waters of the stunning Coral Sea.
One hour from Cairns you will come to the town of Mosman. Stay on the highway going north and follow the Signs for Great Barrier Reef Tourist Drive .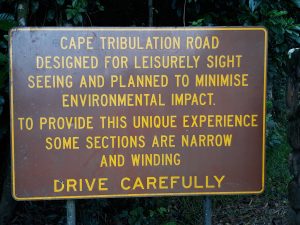 Soon you reach the coastal hamlet of Rocky Point were the highway meets the ocean again. From the shoreline you will see the Daintree Rainfores in the distance. You can see the  mist covered mountains and the jungle reaching down to the water. Keep driving until you reach the turn off to Cape Tribulation Road. This is the road that takes you across the Daintree River by ferry and into the best part of the Daintree Rainforest.
Here are the signs to self drive from Cairns to the Daintree Rainforest .
When you get off the Daintree River Ferry you enter another world.
This is the world of ze jungle! In ze jungle we are fully off grid in every way. We make our own power, gather our own water and deal with our own waste.  You may have limited phone service unless you use Optus. There is only one petrol station here and only one good shop for buying groceries, cigarettes, pharmacy and other supplies like batteries, fresh meat, fresh vegetables and local tropical fruits. This shop has an ATM and postal service, a public phone, tour bookings and information and ice cream! This shop also manages the most beautiful camp ground in the rainforest.
Take a drive from Cairns today to the world's oldest living Daintree Rainforest.
Come and stay, it takes more than a day!